[email protected]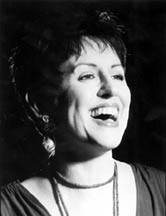 http://www.pampurvis.com

Pam is from Louisiana and Texas. She began singing jazz in 1974 in Paterson, NJ at Gulliver's (now just a fond memory for those who were there). It was a good place to begin because she met and sang with Chuck Wayne, Joe Puma, Gabor Zabo, Joe Morello, Jack Six, and Bob Ackerman. The later of these fine musicians she decided to keep. They have been married and working together for 25 years, and have 8 recordings together to this date.

During the last several years they have performed in Europe as well as Mexico and all over the US. She sings currently with Joe Cohn, Richard Wyands, Dennis Irwin, Earl May, Chip Jackson, Steve Johns, and many other great musicians.

She credits her style to "living with a horn player". She likes to tell a story about meeting and hanging out with the great scat singer Joe Carroll. When she asked him how he learned to sing those improvised type lines he told her "Listen to the horn players, baby, listen to the horn players".

townzs post courtesy of
nj web design | Lform